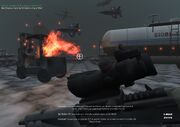 Into The Heart
is the eleventh mission in Warriors of World War III.
The player takes the role of Paul Miller of the SAS defending the British capital city from the invading Russian forces with the British Armed Forces, the London Metropolitan Police and the Ministry of Defence Police.
This mission will take the player into East London (Lewisham and Canary Wharf)
where you will need to destroy at least 4 Russian air defence systems around Lewisham before taking the DLR service to Canary Wharf. This is all the information available at this current time.
Ad blocker interference detected!
Wikia is a free-to-use site that makes money from advertising. We have a modified experience for viewers using ad blockers

Wikia is not accessible if you've made further modifications. Remove the custom ad blocker rule(s) and the page will load as expected.